What's New Wednesday is a meme I started way back in February but I stopped doing after a while. Now it's back. With random news from movies, the blog, life, or books!
It's the APOCALYPSE! JK, no APOCALYPSE...yet O_O
FALSE WARNING
! Though who knows @_@. Anyway's me and my Blogging Best Friend Hannah over @
BOOK HAVEN EXTRAORDINAIRE
are putting together a
SUPER FUN EVENT for 2013
. It will be a monthly thing. What is it? see below...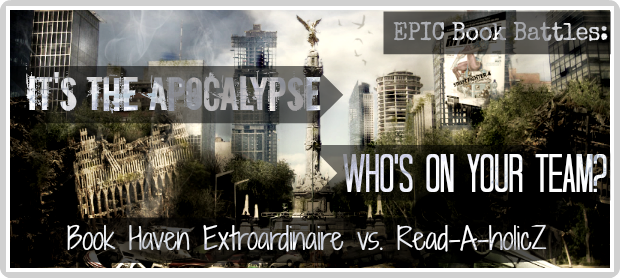 This is an event in which me & Hannah have fictional book battles! Each one of us will pick 2-4 characters and have an imaginary apocalyptic scenario thrown at us & the characters are chosen to help us fight/survive.

THEN YOU PICK THE TEAM WITH THE BEST PICKS!
I TOOK OVER THE WORLD!! }=D
Okay, again JK. I didn't takeover the world but i did
takeover Hannah's Blog
!!! I did a
VLOG
! Like, WOAH i never do them. But for this I did! It has me
GETTING ATTACKED BY A BEAR, random dancing and TONS of BOOK LOVE! =)
[To go see it
click the banner below
...]
Hannah is also hosting an EPIC GIVEAWAY!!! [click button to enter!]
Movie/Blog News:
Becca Fitzpatrick, author of the HUSH,HUSH series made a HUGE ANNOUNCEMENT this week. all done through tweets:
Are you ready for some BIG news, HUSH, HUSH fans?!

— Becca Fitzpatrick(@becfitzpatrick) December 4, 2012
Some big MOVIE news?!

— Becca Fitzpatrick(@becfitzpatrick) December 4, 2012
LD Entertainment has purchased the HUSH, HUSH film rights! insidemovies.ew.com/2012/12/04/hus…

— Becca Fitzpatrick(@becfitzpatrick) December 4, 2012
CAN YOU BELIEVE IT!
I really
LOVED
the books.
HOT FALLEN ANGELS
. Production on the first film is expected to begin in
fall 2013
. Casting will be
impossible
, TMI was good and so was the Hunger Games.
HOPEFULLY
they cast the RIGHT people for the roles =) Can not wait!! to read more click
HERE
! Saw this tweet on
#HushHushMovie
and HAD to put it here!
I can't wait for the movie but omg, THIS. #hushhushmovie twitter.com/fayefearonx/st…

— crispian. (@fayefearonx) December 5, 2012
I agree
100%
!! What do you think about this movie news? EXCITED? INTERESTED? Comment! Also I changed the blog banner so it's more holiday themed!! =D
That's it for this edition! Like the meme? COMMENT!?!