Hey EVERYONE! So if u hadn't noticed *the obvious* blog changes, then u might have missed this EPIC GIVEAWAY that comes with the expantion of Read-A-holicZ. So now we have a SCHEDULE *woah, it's a sign of the apocalypse* & on saturday's it's KPop <3 post or KDrama Review. Just either one of those. So here *as the feature banner says* we're sharing our KPOP <3 through fun & interesting posts. DON'T HEAR KPop? Don't LEAVE! THIS IS GOING TO MAKE U LOL, AND CRY WITH FUNNY! Every saturday we're going to pick a KPop band that we've been hearing recently or loved for some time. So...
---
THIS WEEK'S <3 IS...WOLF by EXO-M!
---
So if you hadn't know EXO has COMEBACK since they were MIA for almost a year. Since there are 2 groups EXO-M & EXO-K (M=Chinesse, K=Korean) My sister *as always* found a GREAT combo video of BOTH the CHINESE AND & KOREAN versions of "WOLF"...JUST WATCH! I HAVE THE NEED TO *OooW* turn into a wolf :P LOVED the dance and the song! Great comeback EXO!
---
EXO-M GIFS...ENJOY!
---
So I'm fairly new to EXO-kinda but I forgot about them for awhile O.O *shameful,right!?* but I LOVE TAO from EXO-M. He tiz my bias in this band though he does look depressed all the time and sleepy, I STILL LOVE HIM :3
Melissa: wait why are we doing EXO-M gifs?
Lisseth:BECAUSE...I like EXO-M a little more than EXO-K
Melissa: you like one more than the other? O.O
Lisseth: well i LOVE them both equally, i just think the guys on EXO-M are a teeny bit HOTTER ;)
Melissa: *stares with jaw dropped* well...i like EXO-K more XP *no more comment* now onto gifs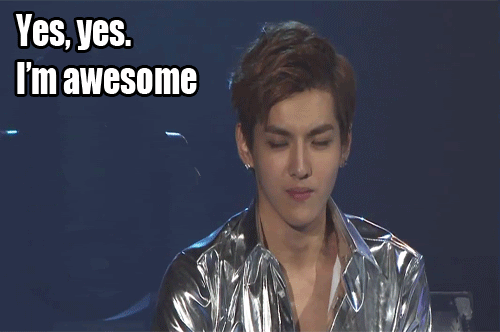 Lisseth: Since I'm not a mean big sis, here is a gif of Melissa's bis, LUHAN :D
---
THAT'S IT!! LIKE THE NEW FEATURE? HEARD OF THE BAND? LEAVE A COMMENT :D
---